Case Study
ALLES.AUTO:
From an offline idea to an innovative online automotive marketplace
The Company
AVAG, as one of the most important driving forces behind the digital transformation in the German car trade, was already pursuing the goal of creating a seamless buying experience when the company came up with the idea for ALLES.AUTO. The idea gave rise to a vision: to revolutionize car retailing online. To achieve this, ALLES.AUTO AG, which was founded for this purpose, planned to become the leading marketplace in online car retailing in a competitive market.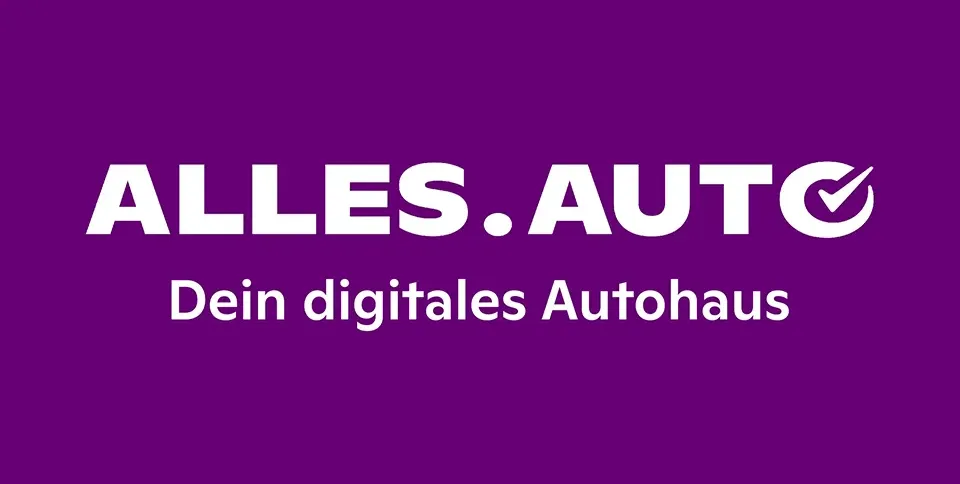 The Challenge
The aim was to create a marketplace that would offer retail partners a platform for mapping vehicles, additional offers, and comprehensive services online, while creating a seamless customer journey. In addition to taking into account different dealer interests, the integration of third-party providers and external systems represented one of the greatest challenges, as well as the processing and uniform presentation of large amounts of data.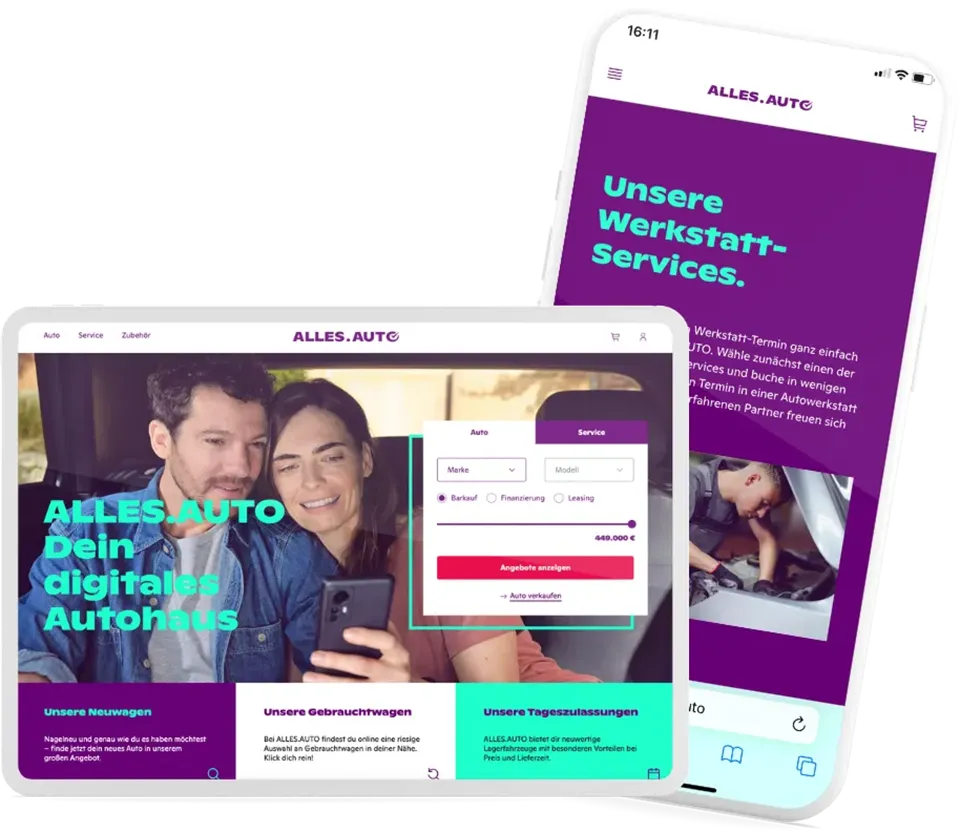 The Solution
With ALLES.AUTO, an all-in-one solution was developed that offers a continuous customer journey, from the test drive to the workshop appointment. Based on Spryker's composable commerce marketplace solution, a flexible architecture was built that enabled easy connection of various third-party systems and software components thanks to the API-first approach. In addition to online sales and leasing of new and used vehicles, additional services, and auto parts, ALLES.AUTO's dealer partners also have the option of offering online financing.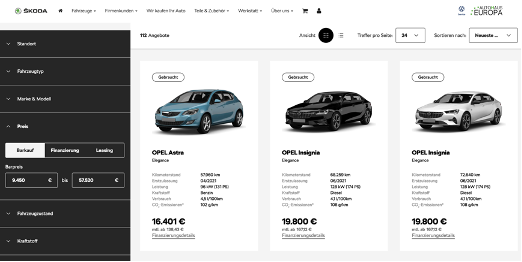 Please keep reading about how Spryker and mediawave helped ALLES.AUTO launch an innovative automotive marketplace.
We'd love to get to know you first
We found the ideal partner in mediawave to develop a unique platform that allows us to respond quickly to ever-changing market conditions and requirements. The mediawave team has continuously advised and supported us in bringing the required technologies into line so that we can continue to develop efficiently in the future. – Patrick Mayer, CEO ALLES.AUTO
The Challenge
A seamless integration of trading partners, products, and services
Flexibility for new and individual requirements
When deciding on a store system, mediawave and ALLES.AUTO chose the Spryker Enterprise Marketplace solution, which offers the best technical prerequisites for the complexity of the requirements. As a modular system, it provides an ideal foundation for the planned composable commerce environment. The modular design of the platform and constant quality controls allow it to be flexible and to integrate and change functions quickly.
Efficient collaboration of different parties and continuous delivery of results
As the lead agency, mediawave led a lean and efficient development process. The goal was to deliver continuously through short development and test cycles in distributed teams in order to test the current state as quickly as possible. Continuous coordination and synchronization of the parties throughout the development process were crucial.
Fast onboarding of new trading partners with a uniform look and feel
The modular architectural approach makes monolithic and cost-intensive technologies a thing of the past. The team was able to react quickly to changing requirements at any time and offer trading partners a highly specialized and intuitive administration interface for the product and service range via a merchant portal. For example, dealer-specific adjustments for banks and the purchase of vehicles by the dealer can be set individually in the merchant portal.
One of the challenges was to process very large volumes of data professionally and efficiently, taking into account high data complexity and ensuring data quality for the ALLES.AUTO marketplace. For these purposes, but also to ensure data integration and automate processes, Akeneo was implemented as a product information management tool.
The SOlution
Composable Commerce offers the necessary flexibility and quality
The goal was to develop an all-in-one solution: The new marketplace was to offer a digital customer journey that maps all the services and steps a customer has to go through. In addition, ALLES.AUTO represents a digital dealer network that enables dealers to create a consistent and personalized shopping experience for their customers. It quickly became clear that a multidimensional marketplace without borders should be created for the automotive trade and that agile structures and the development of a microservice architecture are necessary for this. During the project development, new features and priorities could be continuously adapted to the strategy and market requirements.
Based on a composable commerce approach, a novel and holistic platform was created with the help of the Spryker Marketplace solution, which revolutionizes the car trade. By splitting the solution into different technical building blocks, it remains stable and executable. This allows new and individual business requirements to be implemented at any time, supporting a high degree of customization. The technical expertise of mediawave as well as the best-of-breed approach, through which the best software solution was to be put together, provided important decision criteria for the integration of further required systems such as Akeneo PIM for product data management and Storyblok as a content management system.
Business Benefits
Composable Commerce for maximum flexibility

Speed & flexibility through agile structures

Fast time-to-market of new functions through autonomous feature teams

Future-proof solution: cloud-based

Consulting & implementation at eye level
The Solution
Holistic solutions in the car trade through individual complementary offers
Additional offers around the car are a crucial factor in making ALLES.AUTO even more innovative than already existing e-commerce marketplaces for the car trade. That's why ALLES.AUTO AG is breaking new ground by offering all services that were previously only available offline directly online. After all, customers should have the chance to continue their customer journey both offline and online at any time.
ALLES.AUTO offers online sales via various banks. Extensive bank integration enables real-time comparison between cash purchase, leasing, and financing and offers users real added value. In addition, workshop appointments and numerous services can be booked directly online. The offering is supplemented by an auto parts store. An integrated vehicle configuration allows the user's individual wishes to be catered for.
In addition, dealers can purchase vehicles from end customers. An automated price proposal based on the evaluation of the vehicle according to the dealer's own criteria is seamlessly integrated into the customer journey when a vehicle is purchased. This means that the purchase price and vehicle valuation can not only be transferred to a dealer, but can also be taken into account directly in the checkout as a down payment when purchasing a new vehicle. This provides another novel and convenient way to buy a car.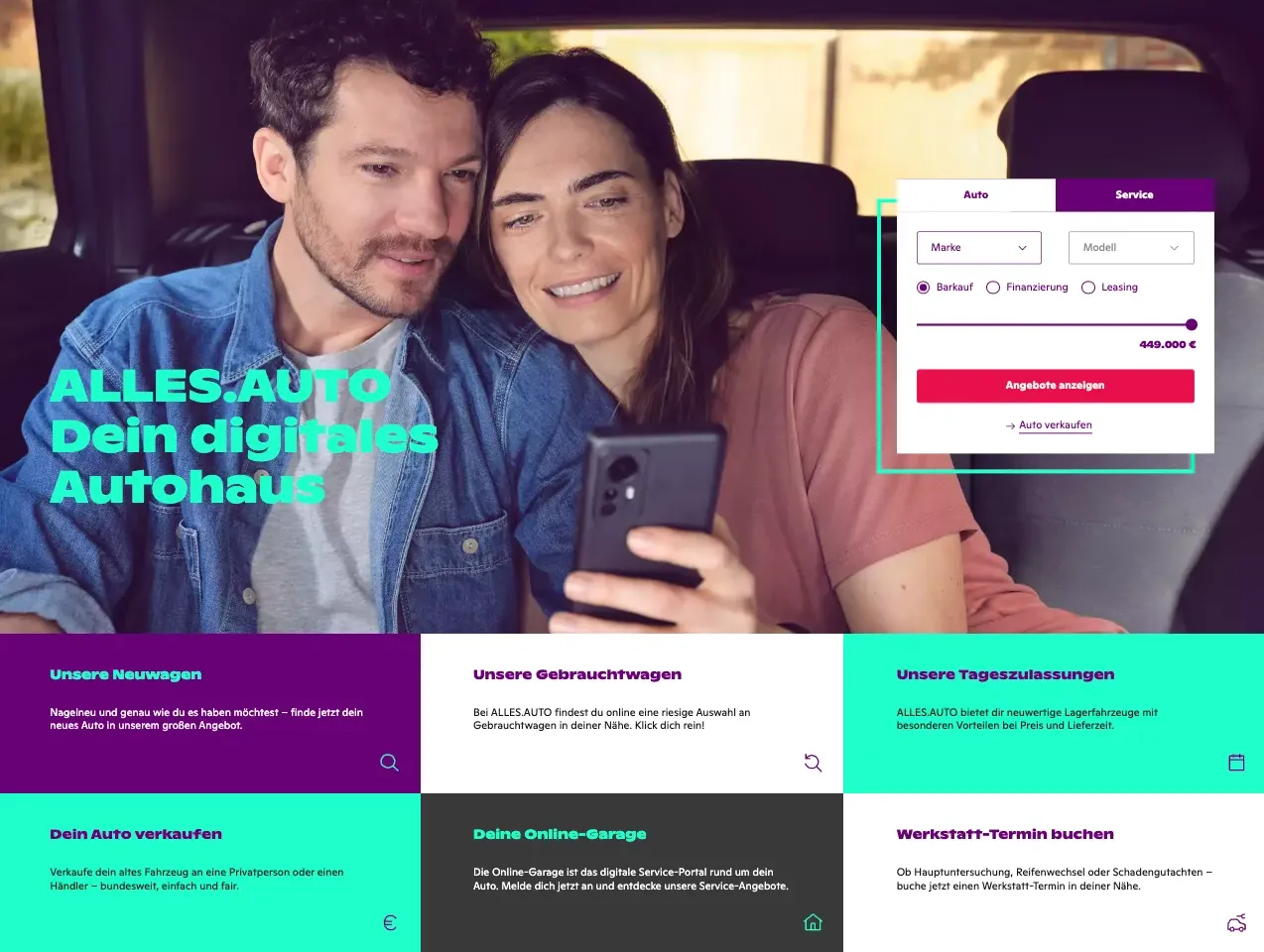 The Solution
Future-proof solutions for digital car retailing
Headless commerce approach
Headless commerce solutions offer ALLES.AUTO the opportunity to respond more quickly to market trends, integrate new sales channels and ensure an optimal customer journey. As a result, ALLES.AUTO can respond to the needs of its dealers. The API-first approach makes it possible to connect software components for different functions via a corresponding API. For this reason, a headless solution was created for ALLES.AUTO, as an ideal basis for a seamless customer experience from different data sources. As a technical basis, an integration layer was developed to pass data from multiple systems, such as Akeneo PIM or the Storyblok CMS, to the headless React frontend.
White label solution for car dealerships
In addition, car dealers can use the ALLES.AUTO frontend as a white-label solution and it is available across all modules (car, service, equipment). This was implemented as a PBC (Packaged Business Capability) to meet the high demands for flexibility, innovation, and future viability. The solution allows car dealers to customize the front-end under their own domain in their style/CI for individual car offers and customer services (e.g. workshop appointments) and thus strengthen their local business. Car dealers can determine which functionalities are used and which are not. New and used cars are presented easily and in real-time for online trading.
Optimal usability
In order to provide a seamless customer experience for dealers in the B2C sector as well as for the end customer, the design had to be aligned through UI/UX as well as the provided data sets. The design of the entire marketplace also had to meet future requirements. To create and manage the content, mediawave recommended Storyblok as the content management system.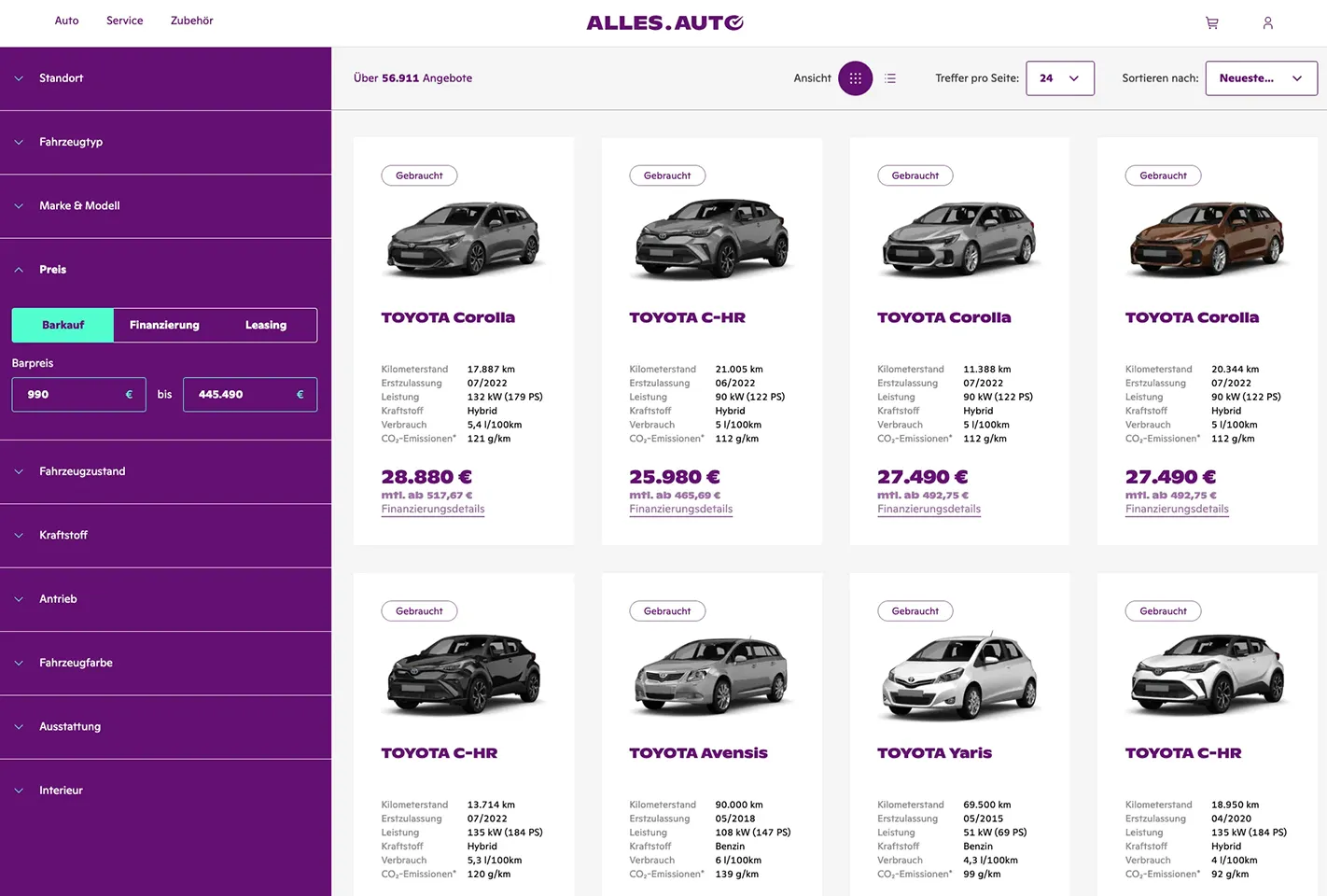 ALLES.AUTO is a revolutionary e-commerce marketplace offering a comprehensive range of services and ushering in a new era for the automotive industry. Thanks to advanced back-end systems, intuitive user interfaces, and a strong partner network, ALLES.AUTO offers functional and innovative solutions that enable an efficient and seamless customer experience. The marketplace opens up opportunities for dealers to reach more customers, increase sales, and offer all services online.
With the first official launch at the end of 2022, ALLES.AUTO marked the starting point for further growth and shows itself as a central interface for online car retail. ALLES.AUTO plans to list 100,000 cars this year and further expand its services for dealers and customers.
alles.auto website
mediawave and ALLES.AUTO
Since the partnership between mediawave and ALLES.AUTO came into being in 2019, a lot has happened – on the one hand in the automotive market in general and on the other hand, technologically. This has also had a constant impact on the project at various levels. Right at the beginning, in order to react better and more flexibly to current requirements, a composable commerce architecture was used, and the organization and structure of the development teams were continuously adapted.
What has always remained constant is the agile cooperation at eye level, the satisfaction with the consulting and implementation services provided by mediawave, and the claim to always align the solutions with very individual functions to the needs of the users. Spryker represents the appropriate commerce solution for this disruptive business model, through which a very high degree of individualization could be achieved.
At the same time, ALLES.AUTO and mediawave were an ideal match in terms of their working methods and corporate culture. The result: a collaboration in which both sides have the necessary understanding of the platform and its business goals, and ALLES.AUTO can optimally master future challenges.
mediawave website
Thanks to the clear vision and close cooperation of the teams, we were always able to take the right path together in the individual development phases, which has already resulted in far more than just a marketplace. Especially through the establishment of feature teams and the best-of-breed approach, we were able to jointly lay a decisive foundation for future growth.

– Tanja Fischer, CEO mediawave
Powered by AWS
Thanks to AWS, Spryker was able to fulfil the customer's needs, when they needed it to make it a success. The composability on AWS is crucial to deliver the highest level of flexibility for customer requests. It allows the customer to select the best-of-breed components they need, which will work seamlessly and reliably straight away, thanks to Spryker being a truly composable platform and the high levels of service AWS has. Due to AWS, the onboarding takes from as little as 4 hours to 1-2 days, compared to months previously. With the Spryker Cloud Commerce OS solution, built on AWS, Spryker can scale computational and storage resources to accommodate the customer's goals.
About Spryker
Spryker is the leading composable commerce platform for enterprises with sophisticated business models to enable growth, innovation, and differentiation. Designed specifically for sophisticated transactional business, Spryker's easy-to-use, headless, API-first model offers a best-of-breed approach that provides businesses the flexibility to adapt, scale, and quickly go to market while facilitating faster time-to-value throughout their digital transformation journey. As a global platform leader for B2B and B2C Enterprise Marketplaces, Thing Commerce, and Unified Commerce, Spryker has empowered 150+ global enterprise customers worldwide and is trusted by brands such as ALDI, Siemens, Hilti, and Ricoh. Spryker was recognized by Gartner® as a Visionary in the 2023 Magic Quadrant™ for Digital Commerce and was also ranked as a Strong Performer in The Forrester Wave™: B2B Commerce Solutions, Q2 2022. Spryker is a privately held technology company headquartered in Berlin and New York. Find out more at spryker.com
Spryker Website